Entertainment
Speculation from "The Bold and the Beautiful": Brooke and Liam Have a Forbidden Relationship
The Bold and the Beautiful is primarily concerned with the love life of Brooke Logan (Katherine Kelly Lang). The blonde beauty's appetite for men frequently gets her and others into trouble. If rumors about her upcoming love interest are accurate, she may end up being the most despised character on the show.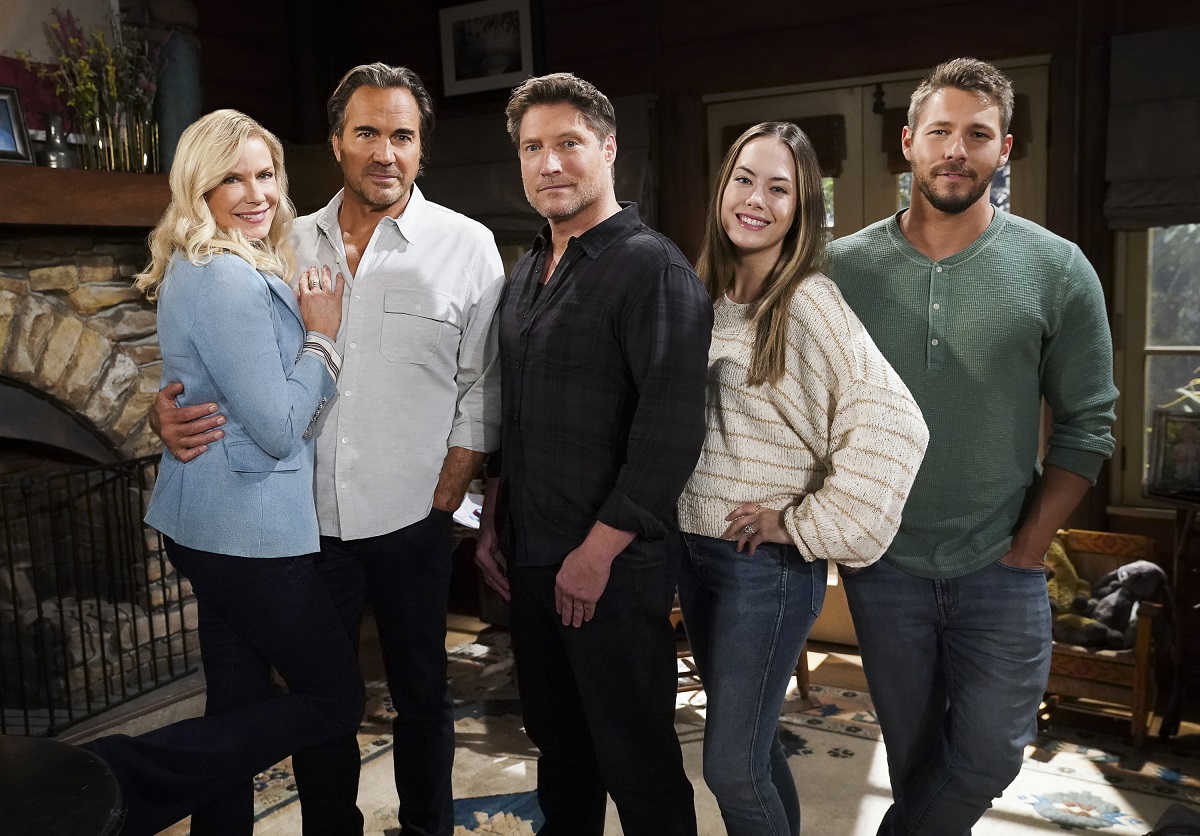 On "The Bold and the Beautiful," Brooke Logan and Liam Spencer are becoming more intimate.
Once more, Brooke and Ridge Forrester's marriage (to Thorsten Kaye) is in ruins. Taylor Hayes (Krista Allen), Ridge's ex-wife and Brooke's longtime foe, is entirely to blame. In order to get Ridge to come back, Taylor allegedly used Douglas Forrester (Django Ferri) to destroy Brooke and Ridge's marriage.
Hope Logan, Brooke's daughter, is fighting Thomas Forrester (Matthew Atkinson) for custody of Douglas. Naturally, Brooke can't help but offer her opinion. Brooke has voiced her concerns to Hope Spencer's husband Liam Spencer (Scott Clifton) about how losing Douglas would affect her daughter.
Fans of "The Bold and the Beautiful" think Brooke and Ridge should end their relationship permanently.
The custody arrangement worries Liam as well, but for a different reason. He believes Thomas has turned back to the evil side and is using Douglas to seduce Hope. Concern for Hope has forged a stronger bond between Brooke and Liam, but are they about to act in the ultimate betrayal?
Fans of "The Bold and the Beautiful" anticipate an affair between the two.
On a soap opera, rumors about a man and a woman getting together immediately start whenever they are in a scene together. To see if the characters have any sparks, the producers and writers adore conducting chemistry tests. Recent scenes between Brooke and Liam have given rise to rumors among fans of The Bold and the Beautiful.
Fans discussed their predictions for Brooke and Liam's relationship on a Reddit thread. "Liam and Brook ought to hook up, haha. More so than anyone else on the show, they get along. Thomas and Hope would be fantastic, a user commented.
Only if it successfully ends Hope's life, laughed another viewer.
Another fan commented, "That would be an intriguing pairing, and Brooke has been known to find herself with her daughter's husband; just ask Bridget."
Liam Spencer and Brooke Logan having a relationship would be a juicy drama.
In the past, Brooke has had affairs with her in-laws. In 2001, Brooke had an affair with her son-in-law Deacon Sharpe (Sean Kanan), which resulted in the birth of Hope and the breakup of her marriage to Bridget Forrester (Ashley Jones). After that, in 2010, Brooke had an affair with Oliver Jones (Zack Conroy), Hope's boyfriend, after mistaking him for Ridge at a masquerade party.
Possibly, the past is repeating itself. A Brooke and Liam affair would make for exciting drama on The Bold and the Beautiful, despite the fact that some fans won't like the idea. If Brooke and Liam weren't already the most despised people in the world, their betrayal would make them the worst.
The affair will destroy Hope, and it may be Lope's final straw. Even though Hope was able to forgive Liam for his previous wrongdoings, the couple might not be able to get past Brooke's infidelity. She will also lose her relationship with Brooke, which will also be destroyed.
Hope is Brooke's most prized child out of all the others. Brooke would be heartbroken if Hope died, and she would cry and ask for forgiveness. Hope was able to forget Brooke's role in the Oliver scandal, but Liam has the potential to permanently separate Hope and her daughter.
The 5 worst scenes from "The Bold and the Beautiful" starring Brooke Logan